The program "commutator.info"
determines the geometric parameters of electric motor rotors, e.g. the segment gap, form deviation etc. The program has been completely redeveloped.
The basis for this program is years of experience in this area, gathered through daily experience with the earlier program versions "Kommutat32" and "UniMessSPC". Many customer suggestions and requests have been included in this new version.
FUNKTIONEN
Measurement of the geometric features of electric motor components
Commutator:
True running
Segment gap (Lamella gap) using various analysis methods
Form deviation of segments
Concentricity
Diameter
Shaft, Worm drive:
True running
Concentricity
Diameter
Package:
Commutator – Package:
Angular deviation / Angular torsion
More Functions
 Determine up to 8 features per test object
Measurement data can be acquired with up to 8 (or 16) length measuring probes
Graphical display of the commutator contour as animated picture or circle diagram
Toggleable display of compensation lines, segment borders and the true running curve(s)
Analysis results are summarized in tabular form as average or maximum values
Test results for individual segments can be displayed
Test plans for specific components can be created, stored and loaded
Tabular display of all tests in the current test plan
Results can be filtered according to date/time and content of the user fields
Test results can be stored in different formats (Text, PDF etc.)
Test results can be printed
Test results can be exported to external CAQ systems
The test process can be automated (AutoStart feature, SPS control)
Simple, feature-rich configuration possibilities for customizing the program according to the wishes of the user
Allocation of user-rights allows particular features (e.g. Configuration) to be disabled for certain users
New Functions
Measurement of roughness parameters with optional roughness tester integrated in measuring process.
Measurement of torsion angle between commutator and package (using tactile or laser sensors).
Contactless measurement of commutator features with laser sensor.
commutator.info
PROGRAM VERSIONS
The program is available in four versions depending on the tasks to be performed. Optional program extensions are also available.
Basic Version
As described under "Features", although capture of angular deviation must be ordered as an extra option.
Developer Version
The same as the "Basic" version but with the ability to perform comparison measurements, e.g. in acceleration tests, allowing important product development questions to be answered.
In-Process Version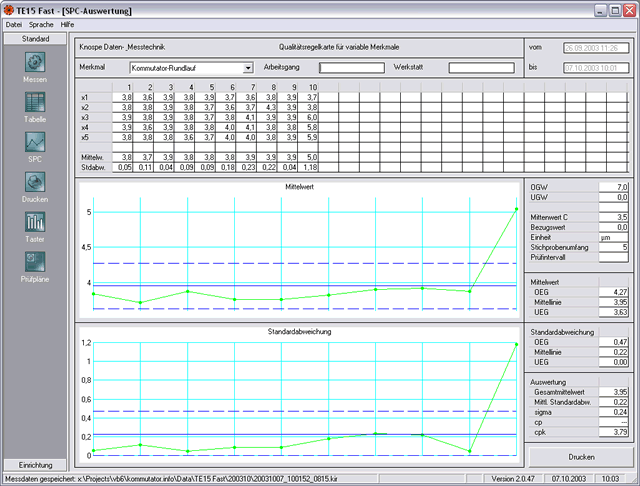 The same as the "Basic" version, but with the capability to exchange signals with an SPC unit allowing the measurement process to be automatically started and good/bad results to be gathered. The analysis routines have been specially optimized to allow 100% testing of commutator features within a cycle time of >= 5 Seconds.
Measurement Station Version
The same as the "Basic" version, but allowing the connection of up to 16 measuring probes. These can be distributed between up to 3 separate measuring devices. This allows sample-based testing on multiple production lines without retooling.
optional available
Program extensions
SPC with x-s rule table for every configured feature

A barcode reader can be connected for choosing test and entry of test object information

Roughness measurement with the Hommeltester T500/T1000 integration of these results into the program test results

Determining the angle difference/torsion between the commutator and the housing

Determining the orthogonality of the commutator and shaft in front-side commutators
USER
These companies use commutator.info
GERMANY

Bosch Siemens Hausgeräte GmbH, Bad Neustadt
Bühler Motor GmbH, Nürnberg
C. & E. FEIN GmbH, Schwäbisch Gmünd
FHP Motors, Oldenburg
Hilti GmbH, Kaufering
Kaut & Bux GmbH, Dornstetten
Kaut & Bux GmbH, Herrenberg
Metabowerke GmbH, Nürtingen
Miele Werk Euskirchen, Euskirchen
NIDEC MOTORS & ACTUATORS GmbH, Bietigheim-Bissingen
Papst Elektromotoren GmbH
Pierburg AG, Hartha
Robert Bosch GmbH, Bühl
Robert Bosch GmbH, Bühlertal
Robert Bosch GmbH, Hildesheim
Robert Bosch GmbH, Leinfelden
Robert Bosch GmbH, Sebnitz
Siemens AG, Würzburg 
TZO GmbH, Leipzig

INTERNATIONAL

AFCO, USA
Bosch Automotive Products Co. Ltd., VR China
Bosch, Corea
Brose, Tschech Republik
Brose Automotive La Suze SAS, France
Brose do Brasil Ltda., Brasilien
Brose Mexico, Mexiko
BSH Drives and Pumps s.r.o., Slovakia
Buehler Motor, Mexiko
Buehler Motor s.r.o., Tschech Republik
Buehler Motor Zhuhai Ltd., VR China
Kolektor Idrija, Slowenia
Robert Bosch Ltda., Brasil
Robert Bosch, Mexiko
Robert Bosch POWER TOOL Kft., Hungary
Robert Bosch Tool Corporation, USA
Scintilla AG, Switzerland
Shanghai Brose Electric Motors Co. Ltd., VR China
Siemens VDO Automotive, USA
TI Automotive, France
Contact
btb metrology d.o.o.
Prizrenska 19
85340 Herceg Novi
Montenegro
Telefon: +382 68 173709
E-Mail: info@btb-metrology.com